The Harvard Law School Association of Los Angeles presents:
Diversity, Belonging, Inclusion & Equity with Dr. Darnisa Amante-Jackson (HGSE, E.d.L.D.)
August 10, at 1 pm PT

Register here!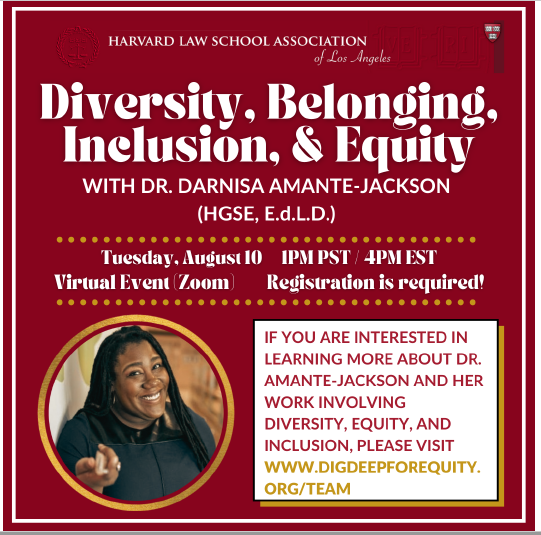 To best support the greater Harvard Law School Alumni community on the path to increasing racial equity, we will be engaging in a 90-minute virtual session, customized to discuss diversity, belonging, inclusion, and equity specific to the legal industry.
During the keynote, Dr. Amante-Jackson will take participants through the DBIE Spectrum, an in-depth look at each of the concepts that make up the spectrum as well as a broader understanding of how each is affected by systems of oppression, what those systems are, and how they need to be addressed in their unique manifestations.
Participants can expect a session that revolves around powerful storytelling that paints the picture of what marginalized and underrepresented groups experience but may not yet have the language to express.
The 90-minute virtual session will cover several interrelated concepts. The goals of this session will be to:
Educate participants on key concepts related to DBIE.
Support participants' understanding of why this work is both necessary and important.
Develop a common language and understanding around concepts such as micro/macroaggressions, systems of oppression, inequity, and other related concepts.
Provide a forum for participants to ask questions about how these concepts and work associated with redressing inequity applies to their specific contexts, both professionally and personally.
When: Tuesday, August 10, 2021, 1:00 PM Pacific Time/4:00 PM Eastern Time
Where: Zoom
Registration is required. Please register through the following link provided by The Disruptive Equity Education Project: https://zoom.us/webinar/register/WN_FND8pTleTRmvHpzXDG9Wfw.
If you are interested in learning more about Dr. Amante-Jackson and her work involving diversity, equity, and inclusion, please visit: https://digdeepforequity.org/team/.
Questions?
Email Lyndsi Allsop: lallsop@jd18.law.harvard.ed